As food need grows in South Carolina, an Aiken church collective helps feed its neighbors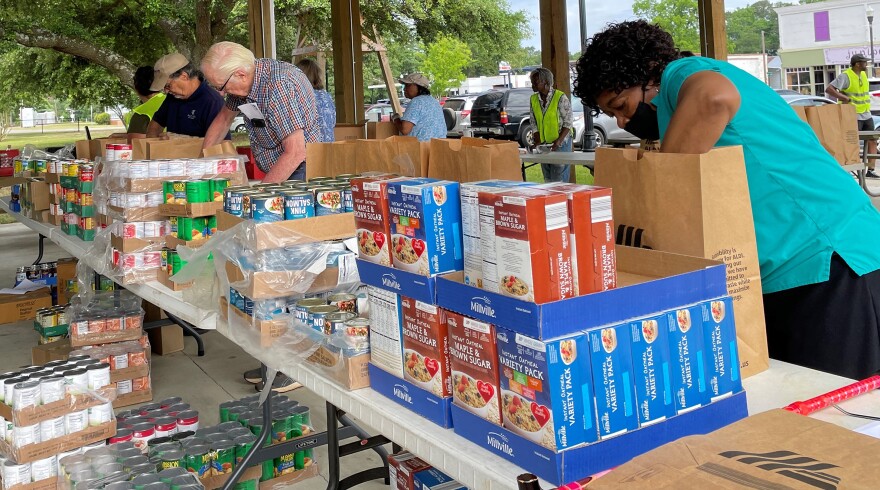 A line of cars, trucks, and vans stretches up the street, along the railroad tracks, then back down the other side of the street. Dozens of vehicles, engines mostly off, waiting patiently for the cue to roll forward.
A little after 9 a.m. on a perfect Wednesday morning in Ridge spring, a small city on the rim of Saluda County, about 15 volunteers are ready to open the throughway to the tables packed with grocery bags. For the next hour, these volunteers will fill more bags with staple foods, breakfast and lunch items, and a couple recipes; they will shove filled paper bags forward and start packing the next, and do it again and again and again, until the last of those vehicles leaves loaded with food.
Next to the tables sits a block of local fresh chicken and boxes of produce – oranges and potatoes – that go home with the drivers and passengers who arrived here to get a helping hand.
As supermarket prices climb, worries over food insecurity grow with them. Every third Wednesday of the month, ACTS, an Aiken-based nonprofit whose full name is Area Churches Together Serving, hosts a food distribution event at the Ridge Spring Farmer's Market to help combat an increasingly oppressive problem.
Around South Carolina, food banks and agencies looking to make sure their neighbors are eating well are feeling the pressure of increased demand for food and the higher prices of the food they want to send home with hungry people.
In Rock Hill, the Manna House is seeing more and more people show up to its Saturday food days; in Lancaster, HOPE's food pantry is perpetually taxed – that according to Manna House Pantry President Sandra Evans and HOPE Assistant Director Susan Dolphin.
It's not much different in Aiken, where ACTS's executive director Suzanne Jackson says need is growing, at the Ridge Spring distributions and at the other seven distributions that ACTS hosts monthly in the Aiken region.
The Wednesday distributions started (three years ago this month ) with about 100 recipients, says volunteer Travis Cummings. In May, the number was past 150.
But before you think the worst, what follows in the audio story above is a love letter from the volunteers to the community they serve. Some volunteers, like Sarah Coleman and Thelma Meekins are occasional customers of this very distribution. Other times, they want to give something back, and spend their third Wednesdays packing paper bags.
And while no one at ACTS believes food distributions are a permanent solution to hunger worries, none have any plans to stop feeding their neighbors.