2020 Holiday Specials on SC Public Radio Classical Stations
Welcome Christmas!
Dec. 21 at 11 a.m.
Welcome Christmas! is a perennial Christmas favorite from VocalEssence, one of the world's premier choral ensembles. Join host John Birge for an hour of traditional carols and new discoveries.
Hanukkah Lights 2020
Dec. 21 at 12 p.m.
The NPR favorite returns with all new Hanukkah stories. Hosted by Susan Stamberg and Murray Horwitz.
A Chanticleer Christmas
Dec. 22 at 11 a.m.
This unique, one-hour program of holiday music is presented live in concert by Chanticleer. Hear why this superb 12-man ensemble is known as "an orchestra of voices," as they perform holiday classics and new favorites, with choral commentary by host Brian Newhouse.
Candles Burning Brightly
Dec. 22 at 12 p.m.
A celebration of Hanukkah, the Jewish Festival of Lights, with an exploration of Hanukkah foods, traditional activities, and of course, plenty of music.
A Soulful Christmas
Dec. 23 at 11 a.m.
Join us for an uplifting Christmas special that features Black music and composers. Including choral music, gospel, spiritual and jazz-inspired styles, this hour celebrates and explores non-idiomatic Black classical music and choral traditions.
A Choral Christmas With Stile Antico
Dec. 23 at 12 p.m.
Celebrate Christmas with the sound of soaring voices of Stile Antico, the award winning choir from London. Tune in for a concert of radiant sacred music for the Christmas season by the most acclaimed composers of the renaissance. Presented by NPR Music.
A Festival of Nine Lessons and Carols
Dec. 24 at 10 a.m. - LIVE
An annual and beloved Christmas tradition, "A Festival of Nine Lessons and Carols" is an extraordinary and memorable live service of word and music from the Chapel of King's College, Cambridge, England.
Audiences will share in a live, world-wide Christmas Eve broadcast of a service of Biblical readings, carols, and related seasonal music (anthems a cappella and with organ accompaniment, and congregational hymns), presented by one of the world's foremost choirs of men and boys and performed in an acoustically and architecturally renowned venue.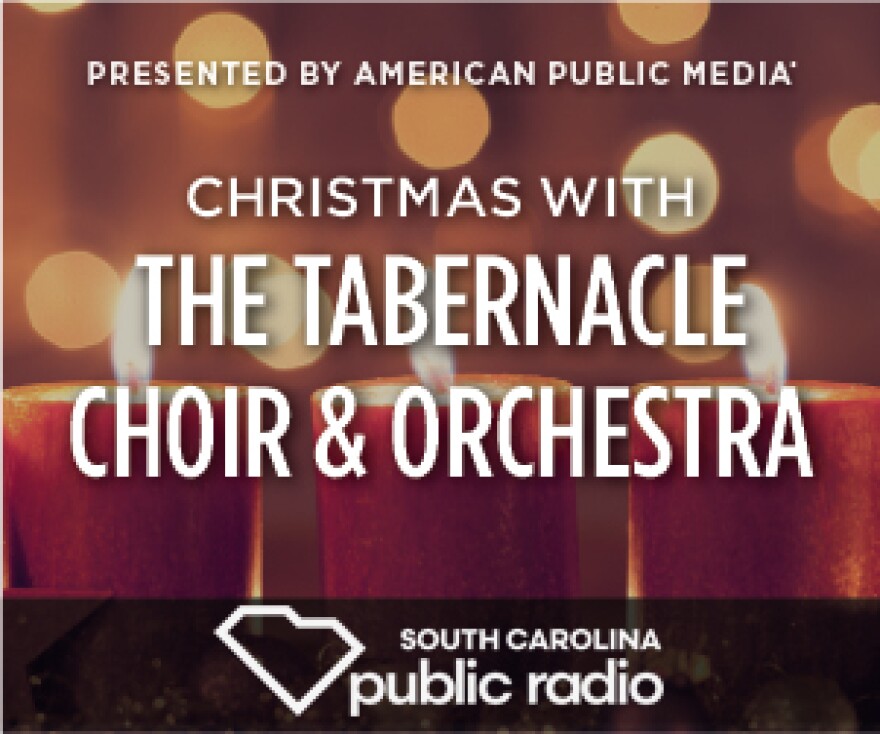 Christmas with the Tabernacle Choir and Orchestra
Dec. 24 at 12 p.m.
The world-renowned Tabernacle Choir continues its tradition of great artistry this holiday season, with touching arrangements of familiar carols, and lesser-known melodies that are fast becoming the new classics. Julie Amacher hosts this annual favorite.
Audiences will enjoy a warm, nostalgic holiday celebration featuring a choir of 360 voices, a 150-piece orchestra at Temple Square, the 32-member Bells on Temple Square, along with other artists and special guests. A 600-person cast will share a stunningly beautiful mix of carols in various unique arrangements.
Christmas with Morehouse and Spelman Glee Clubs
Dec. 25 at 11 a.m.
One of the great holiday traditions in America, the choirs of Morehouse and Spelman Colleges -- two of the most prestigious historically black institutions in the nation -- get together to present a spine-tingling concert program. This encore presentation features the best works of the last several years. It's a joyous celebration of the schools' tradition of singing excellence, with their trademark mixture of spirituals and carols. Korva Coleman hosts.
All is Bright: Contemplative Music for Christmas
Dec. 28 at 11 a.m.
Lynne Warfel hosts an hour of gorgeous, contemplative choral music that tells the traditional Christmas story with songs about angels, the star and the manger scene. Featured artists include Cantus, Chanticleer, Cambridge Singers, Bryn Terfel, Emma Kirkby, Jessye Norman, and a variety of choirs.
Jazz Piano Christmas
Dec. 28 at 12 p.m.
Join the Kennedy Center and NPR Music for this annual holiday tradition highlighting jazz pianists and their favorite seasonal music, captured live in concert with a small audience.
Hygge Holiday: Cozy Classics
Dec. 29 at 11 a.m.
Join host Elena See as she plays a mix of wintry and nostalgic classical pieces designed to accompany listeners as they enjoy cozy wintertime activities.
A Mountain Stage Holiday
Dec. 29 at 12 p.m.
From the heartfelt to the humorous, join Mountain Stage's Larry Groce for a look back at the songs and stories that remind us of this special time of year.
An Afro Blue Christmas
Dec. 30 at 11 a.m.
Join us for a special holiday concert with Howard University's premiere vocal ensemble Afro Blue and special guest pianist Cyrus Chestnut. Hear the a-cappela group perform a variety of holiday songs including African-American spirituals, jazz and pop tunes, and classical repertoire.
The Big Tiny Desk Holiday Special
Dec. 30 at 12 p.m.
Celebrate the season with amazing holiday performances from The Tiny Desk Concert series including Sharon Jones & The Dap-Kings, Steve Martin, Hanson, The Polyphonic Spree and more!
Joy To The World – A Holiday in Pink
Dec. 31 at 11 a.m.
The internationally acclaimed "little orchestra" Pink Martini bedecks the airwaves with festive holiday songs from across the globe. From timeless classics to rarely heard gems, hear a multi-denominational, multi-cultural jubilee, overflowing with enough holiday spirit to warm your entire family. Hosted by All Things Considered's Ari Shapiro.
Hollywood Holiday
Dec. 31 at 12 p.m.
Host Lynne Warfel presents an hour-long musical retrospective of some of Hollywood's most cherished Christmas-themed movies.
A Paul Winter Solstice Celebration
Jan. 01 at 11 a.m.
Celebrate the return of the sun and the warming of the heart with Paul Winter's Winter Solstice Celebration. We head back to New York's Cathedral of St. John the Divine to hear a new performance of The Paul Winter Consort and the glorious Cathedral Pipe Organ.