NHC introduces 7-day outlooks, among other changes ahead of the 2023 hurricane season
Those in the path of tropical cyclones will now have two more days to prepare. Beginning this year, the graphical outlook tool from the National Hurricane Center will be extended from five to seven days.
The National Hurricane Center said in an update of its products that two-day outlooks will still be available in addition to the new seven-day outlook. Tropical cyclones already have a longer lead time compared to other severe weather events, like tornadoes, but an extra two days of warning could make a difference for those who need more time and resources to prepare for a hurricane.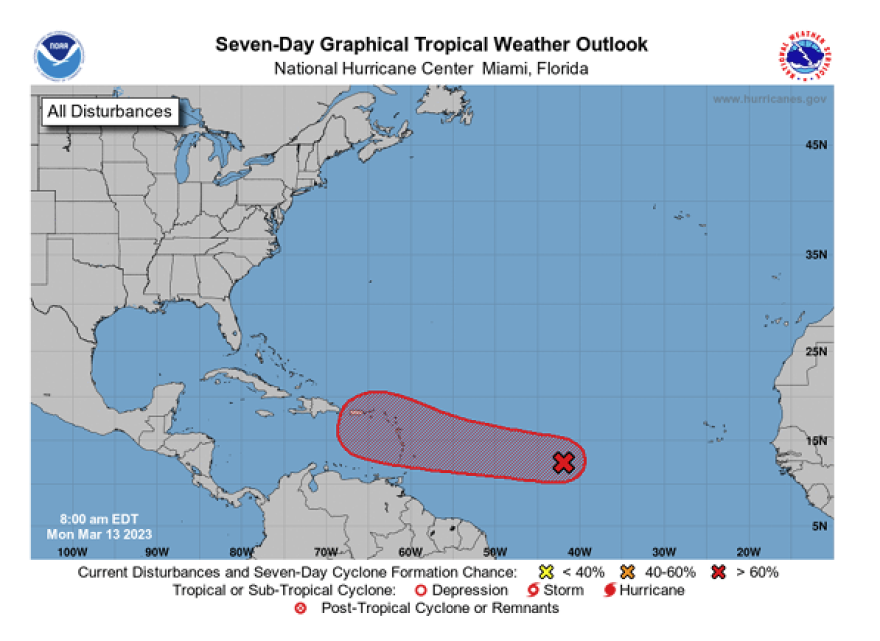 Other changes to the NHC's products include making the Peak Storm Surge Forecast graphic operational, boosting the tool from its experimental status. The graphical product displays peak storm surge inundation values pulled from the Tropical Cyclone Public Advisory when storm surge watches or warnings are in effect.
Storm Surge is an abnormal rise of water caused by a storm, reaching up to 20 feet above sea level. This leaves coastal residents especially vulnerable during storm events. Historically, the leading cause of hurricane related deaths in the United States is storm surge.
A similar tool, the Potential Storm Surge Flooding Map will now also be available for Puerto Rico and the U.S. Virgin Islands. The updated map takes into account flooding due to storm surge from ocean, adjoining tidal rivers, sounds and bays. It does not take in account inland flooding from rainfall or river discharge.
The National Hurricane Center also announced it will begin experimentally providing simultaneous livestream broadcasts via YouTube, Facebook and Twitter when there is a potential threat to land. The media pool will be activated, and the livestream will begin at 11:30 a.m. EDT in these situations.
The Atlantic hurricane season will begin on June 1 and run until Nov. 30.