SC's Lindsey Graham defends call to GA secretary of state, floats Scott as Trump's VP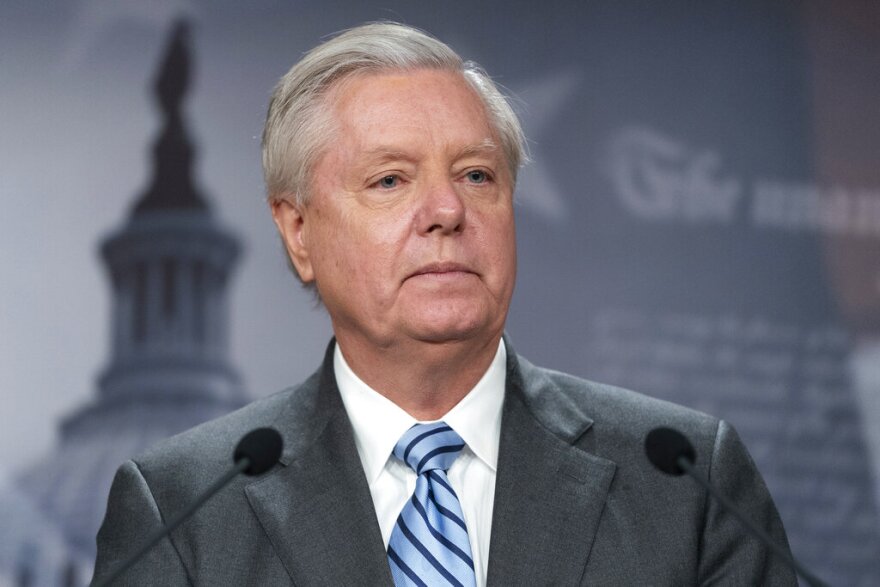 U.S. Sen. Lindsey Graham spoke to reporters Aug. 17 about former President Donald Trump's fourth indictment, his phone call to the Georgia secretary of state and the 2024 GOP presidential primary.
U.S. Sen. Lindsey Graham said he'd like former President Donald Trump to stop rehashing the 2020 election — remarks that Trump's 2024 GOP challengers say could give President Joe Biden a second term.
"But that's not going to happen," Graham, a Trump ally who is backing his bid for the White House, told reporters Aug. 17 in Columbia ahead of the S.C. Chamber of Commerce's annual Washington Night forum. "I'd like to be taller; that's not going to happen."
This week, a Georgia grand jury charged Trump and 18 others with trying to overturn the former president's 2020 election loss in the state. The indictment, Trump's fourth overall since leaving office, also mentioned 30 unnamed co-conspirators.
Graham, who was subpoenaed by the grand jury and testified about his 2020 call to the Georgia secretary of state, told reporters he is not among the unnamed co-conspirators.
"I wasn't one of them," he said, also throwing cold water on suggestions he cooperated with the Fulton County District Attorney's Office.
"I didn't kill President Kennedy, and I'm not cooperating. That's crazy stuff," Graham said. "I went and had my time. I haven't heard from them since. I haven't talked to them since."
Graham said he did not regret making the phone call, which he added helped him make an informed decision when he voted to certify the 2020 election results.
Georgia Secretary of State Brad Raffensperger had said Graham called and asked whether he could reject certain absentee ballots.
"I didn't do anything wrong," Graham said.
Graham, who has continually defended Trump against indictments, said he thinks there's "almost a zero chance" that Trump will face aGeorgia jury before the election.
"I think the legal issues in this case are monumental," said Graham, who added he doesn't believe the 2020 election was stolen. "I think the theory of the case, of criminalizing people who object to an election is dangerous. We'll see what happens. But if he wins the presidency, I think this case probably goes away."
In 2024 polls, Trump has maintained a sizeable lead in South Carolina, despite that two well-known, high-profile candidates also are in the mix: former S.C. Gov. Nikki Haley and U.S. Sen. Tim Scott.
The latter name, Graham said, should be in the mix for vice president if Trump wins the nomination.
"Both of them (Haley and Scott) have very bright futures, but the question's about VP," Graham said, noting a reporter's question. "If Trump wins, he's going to have to pick a VP, right? I can't think of a better choice than Tim Scott."
The candidates, likely minus Trump, will face off in their first debate Aug. 23.
South Carolina's Republican presidential primary is Feb. 24.