Weather watches, warnings, alerts, and more... Weather LinksNational Weather Alerts, Watches, Warnings and Advisories for All Parts of South Carolina (National Weather Service)Statewide Alerts, Watches, Warnings from the National Weather Service: Text VersionsSC Dept. of Transportation: Highway Conditions and AlertsThe South Carolina Emergency Management DivisionSouth Carolina State Government Offices Delays and ClosingsCurrent Weather Conditions in South Carolina
Many in the Charleston Area Shelter in Place for Florence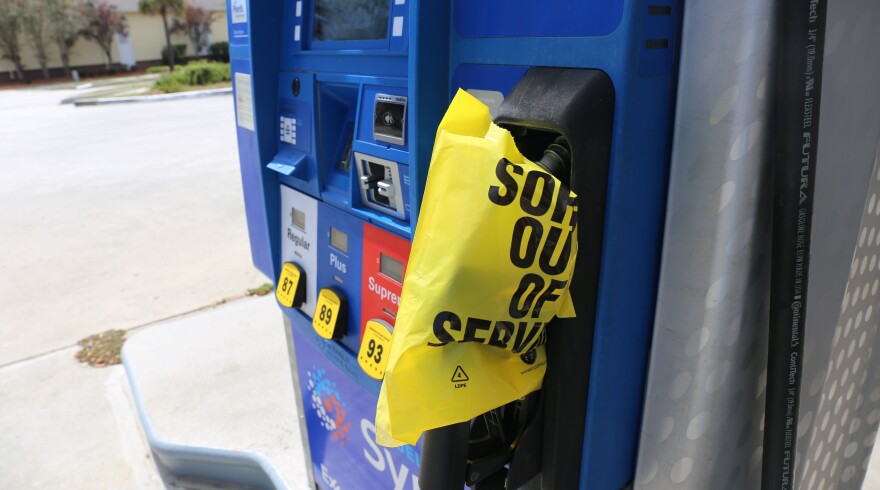 Just hours before hurricane Florence slammed into North Carolina, Dallas Cone and his nearly 1 year-old daughter Hannah sat in the sand on Sullivan's Island just outside of Charleston enjoying the cool breeze and growing waves. He admitted his family was poised to leave, but changed their mind at the very last minute.
"We did board up yesterday expecting the worst," he said. "But I think it's going to be north of us right now."
A woman sun bathed under cloudy skies in a bright, orange bikini. Her husband grabbed a cold one before sitting back down on a large, red cooler. Yeah, they weren't leaving either. They never planned to.
Ian Devine walked his dog along the beach. He lives just 500 yards from the ocean. He too wasn't worried.
"Maybe it's fatalistic," he said. "Maybe it's just stoic. What comes will come and you do the best you can to prepare and the rest is out of your control."
But these beach goers and one million others along the coast were ordered to leave by Governor Henry McMaster earlier in the week. Orange plastic bags covered pumps at gas stations that had simply run out. Grocery stores were filled with panicked people grabbing anything they could. Pharmacy lines were long, if they were even open at all.
Yet outside, there was a since of calm. Many seemed to take the storm in stride like it is just part of living in the Lowcountry; the longer they've lived here, the less concerned.
"I talked to a girl who just moved here from Ohio and she was shaking in her boots," said Adonia Mckinney, a teacher. "I said I understand. When I first moved here I was shaking in my boots and left every single time when a storm cam by."
Native Kenneth Brinson remembered Hugo. He called it the first real storm that taught him a lesson. He did evacuate that one, only no until the last minute. He runs a construction company.
"I mean, really you either stay and prepare and you know hold the fort down," he said. "Or you run with the wind like everyone else. I choose to stay. I have too much invested."
Many islanders who fled hurricane Hugo were not allowed back home for days, even weeks. They'll tell you that's why they'll never leave again.
Still the Lowcountry could be in for flooding and heavy rain. Charleston County's coroner warns most fatalities occur when drivers try to get in or out of their vehicles in rising water. Downtown Charleston routinely floods, even on sunny days. So far, authorities have no plans to close the bridges, but urge people to use caution.
Back on Sullivan's Island, a local landmark and beloved pub is boarded up, as are many other island businesses. Yet Dunleavys is actually open. Owner Jamie Maher says he does worry about flooding, but adds the suds will be flowing.