Coastal low to bring rain, wind & dangerous surf to Palmetto State for the holiday weekend
The upcoming Memorial Day weekend will feature rounds of heavy rain, gusty winds, and dangerous surf along the Carolina Coast as a strengthening low develops offshore.
An area of development highlighted by the National Hurricane Center (NHC) is being monitored off the Southeast U.S. Coast in their seven-day tropical weather outlook. This area, which stretches roughly from the Outer Banks of North Carolina to near Cape Canaveral, exhibits a low chance of development over the next week. Surface analysis Thursday depicts an area of low pressure located in South Florida, with several localized troughs of low pressure extending outward from the center. Over the next 24 to 48 hours, global forecast models indicate the development of a closed low offshore. A closed low is merely one characteristic of a tropical system, however, this does not mean the low that develops will take on other important distinguishing features. The latest NHC advisory explicitly states, "The system appears unlikely to become a subtropical or tropical cyclone since it is forecast to remain frontal while moving generally northward and inland over the Carolinas this weekend."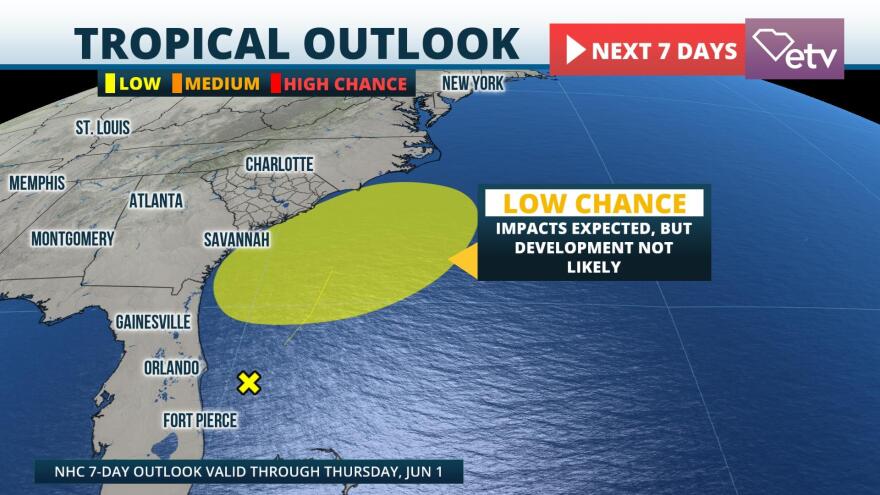 Model guidance suggests a wide rain shield will approach the South Carolina Coast as early as Friday morning. Weather conditions are expected to deteriorate along the coast through Friday as heavier rainfall moves ashore, approaching the I-95 corridor by early Friday evening. Between Friday evening and Saturday afternoon a steady rain is expected to sweep into both North and South Carolina. Pockets of heavier rain are going to result in the potential for localized flash flooding along the coast beginning Friday, with possibly more widespread inland flooding by Saturday.
1
of
2
— Flash Flood Risk Fri.jpg
The risk of flash flooding arrives Friday along the coast before overspreading the state Saturday.
Meteorologist Justin Ballard / Weather Prediction Center
2
of
2
— Flash Flood Risk Sat.jpg
The risk of flash flooding arrives Friday along the coast before overspreading the state Saturday.
Meteorologist Justin Ballard / Weather Prediction Center
The heaviest rainfall is forecast to remain just offshore as of publishing, but any subtle shift in low pressure track could result in that heavier rain impacting the Carolinas. Rainfall totals will be varied, with the Savannah River Basin likely receiving less than an inch of rain through the Memorial Day weekend. Rainfall totals in the Upstate, Midlands, and Lowcountry will likely be between 1 and 3 inches, with the Pee Dee getting as much as 4 inches before rain pushes out of the region Sunday into Monday. While there will likely be dry time during the holiday weekend, the majority of it will be spent dodging raindrops across the Palmetto State.
Wind and rain will again impact your weekend plans.

Heavy rain is possible along the immediate coast this weekend with gusts up to 35 mph inland and 45 mph along the coast Friday night into Saturday. #ncwx #scwx pic.twitter.com/jWzQGRIKqf

— NWS Wilmington NC (@NWSWilmingtonNC) May 25, 2023
Memorial Day weekend is often viewed as the unofficial start to summer and many will be flocking to South Carolina's coastline. The risk of dangerous rip currents will be high through Friday evening, which could sweep even the best swimmers away from shore. Residents and vacationers are encouraged to practice beach safety and heed local beach flag warnings. Rip current risks are often accompanied by dangerous marine conditions and that holds true during the holiday weekend. Rough seas could prove dangerous for small craft and other boating operations. A Gale Warning is in effect for the coastal waters of South Carolina through Saturday afternoon as northerly wind gusts could approach 50 miles per hour resulting in waves of up to 10 feet. This system's impact footprint will be felt as far north as New England, where rough seas are expected to make for dangerous boating conditions in coastal waters.
Regardless of tropical or subtropical development, impacts will be felt across the Palmetto State. As surface low pressure deepens, or strengthens, high pressure is forecast to wedge down the Mid-Atlantic. These two features will act in tandem to bring gusty winds starting Thursday and likely lasting through at least Sunday. Sustained northeasterly winds along the coast Friday could reach as high as 20 to 25 miles per hour, with gusts likely topping out over 30 miles per hour. Closer to the center of low pressure off the Southeast Coast, forecast wind speeds reach closer to 45 or 50 miles per hour. Based on forecast data as of publishing, the window for strongest winds will likely be Friday through Saturday for most of the state. Portions of the Upstate will likely deal with gusty winds through much of Sunday as the system departs South Carolina.